District Gurugram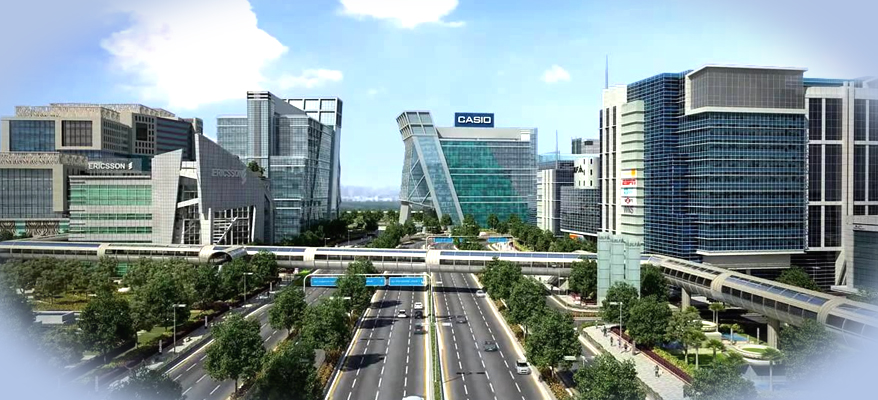 Gurugram (earlier known as Gurgaon) is one of the 22 districts in Haryana. This city is part of the National Capital Region of India. It is 32 kilometres southwest of New Delhi and 268 km south of Chandigarh, the state capital. As per the census of 2011, Gurugram had a population of 876,824. Witnessing rapid urbanisation in India, Gurugram has become a leading financial and industrial hub with the third-highest per capita income. The city's economic growth story started in 1970, when the leading Indian automobile manufacturer Maruti Suzuki India Limited established a manufacturing plant in Gurugram. Today, the city has local offices for more than 250 Fortune 500 companies.

The average land elevation is 217 metres (712 feet) above sea level.

Gurugram experiences a monsoon-influenced humid subtropical climate. The city experiences four different seasons - spring (February - March), summer (April - August), rainfall/autumn (September - October) and winter (November - January). Summers, from early April to mid-October, are typically hot and humid, with an average daily June high temperature of 40 °C. Winters are cold and foggy with few sunny days. The Western Disturbance brings some rain in winters that further increases the chill. Spring and autumn are pleasant and mild seasons with low humidity. The monsoon season usually starts in the first week of July and continues till August. The average annual rainfall is 714 millimetres (approx).

Gurugram has architectural buildings in a wide range of styles. It's skyline with many skyscrapers is nationally recognised. The city has been home to several tall buildings with modern planning. Gurugram has an estimate of 1,100 residential highrises. In Gurugram, the average cost of a 93 sq m(1,000 sq ft) two-bedroom apartment at a decent condominium is at least $160,130 (Rs.10,000,000).

The city has a complex park system, with various lands operated by the Haryana Urban Development Authority. The city's culture is Entertainment and performing arts. Notable performing art venues in the city include Epicentre in Sector 44 and Nautanki Mahal at the Kingdom of Dreams near IFFCO Chowk. Also, the bollywood actor Rajkummar Rao was born in Gurugram.

Gurugram has two major stadiums: Tau Devi Lal Stadium in Sector 38, which has facilities for cricket, football, basketball and athletics as well as a sports hostel and Nehru Stadium which is designed for football and athletics.

HUDA City Centre metro station on the Yellow Line of Delhi Metro
There are five stations served by Delhi Metro located on the Yellow Line, which are HUDA City Centre, IFFCO Chowk, MG Road, Sikanderpur and Guru Droncharya.
Education
ITM Campus (now The Northcap university) in Gurugram
Ansal Institute of Technology
ITM University, Sector 23A
GD Goenka University, Sohna Road
KR Mangalam University, Sohna Road
Amity University, Manesar
Apeejay Stya University, Sohna
BML Munjal University, NH8
Shree Guru Gobind Singh Tricentenary University, Budhera
National Brain Research Centre, Manesar
For Villages, Select Block :