District Panchkula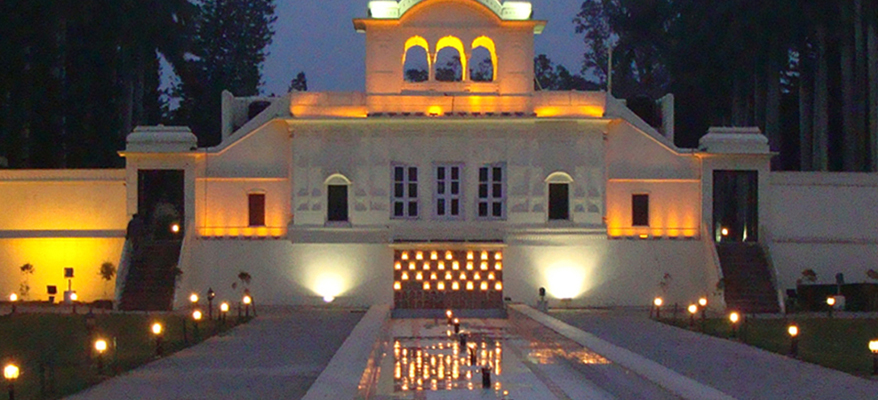 PANCHKULA is one of the 22 districts of Haryana. It is a planned city in the Panchkula district, Haryana. It forms a part of a continuous area with the union territory of Chandigarh and the city of Mohali. It is approximately 4 km southeast of Chandigarh, 105 km southwest of Shimla and 259 km northeast of New Delhi. Panchkula is part of the Chandigarh capital region or Greater Chandigarh. The Chandigarh-Mohali-Panchkula metropolitan region jointly forms a Chandigarh Tricity, with a combined population of over 2 million.

The word Panchkula comes from the local word panch (five) and kula (canals) "The city of 5 canals", referring to five irrigation canals that distribute water from the Ghaggar-Hakra River.

Panchkula district has a sub tropical continental monsoon climate with hot summers, cool winters, good monsoon rainfall. The district has great variation in temperature from -1 °C to 43 °C. The winter frost occurs during December and January. It also receives winter rains from the western disturbance. The rainfall is mostly received in the monsoon. Morni hills constitute the highest point of the district as well as of Haryana state.

The underground water in Panchkula is generally fresh and suitable for domestic and irrigation purposes. The underground water level is generally high in the southern parts and low in north and north-east.

Morni, the hill resort at Morni Hills is about 45 kilometres (28 mi) from the city. The hills were named for Queen Morni, who is said to have ruled this city. Pinjore Garden is about 20 km from the city, and cover a total area of 100 hectares (250 acres). The work of creating the gardens began in the 17th century. Pinjore Garden is the venue for an annual mango festival. The garden comprises a mini zoo, historic places, Japanese garden, nursery and a number of picnic spots.

The district has branch offices for a number of state government agencies including: Haryana Urban Development Authority, Central Warehousing Corporation, Food Corporation Of India, Central Board of Secondary Education, Haryana Staff Selection Commission, Haryana State Commission For Women, Haryana Agro Industries Corporation Limited, Haryana Forest Development Corporation Limited, Women and Child Development Department - Haryana, Directorate of Urban Local Bodies, Haryana Police Recruitment Board, Haryana State Technical Education Society, Haryana State Health Resource Centre, Haryana Electricity Regulatory Commission, Haryana Finance Commission, Yojana Bhawan - Haryana, Public Health Engineering Department, Haryana, Directorate of Medical Education & Research - Haryana, National Health Mission - Haryana, Haryana State Federation of Co-operative Sugar Mills Limited, Office of the Commissioner of Income Tax - Haryana, Life Insurance Corporation of India (LIC), Department Science & Technology – Haryana and many more.
Education
Government College, Sector 1, Panchkula
Government College for Girls, Sector 14, Panchkula
Mother Teresa Saket College of Physiotherapy, Chandimandir Cantonment, Panchkula
National Institute of Fashion Technology, Sector 23, Panchkula
Institute For Spatial Planning And Environment Research, Amravati Enclave, Panchkula
National Institute For Training In Search Rescue And Disaster Response, Bhanu, Panchkula
Haryana Institute of Civil Aviation, Pinjore, Panchkula
BRS Dental College and Hospital, Kot Billa, Panchkula
Swami Devi Dayal Dental College, Barwala, Panchkula
Jainendra Public School, Sector 1
Hans Raj Public School, Sector 6
Bhavan Vidyalaya, Sector 15
Blue Bird, Sector 16
CL DAV, Sector 11
DC Model, Sector 7
The British School, Sector 8
Doon Public School, Sector 21
Delhi Public School, Pinjore
There are a number of super specialty hospitals:
Command Hospital in Chandimandir Cantonment, General Hospital in Sector 6, Saket Orthopedic Hospital in Sector 1. Government dispensaries are also present in some sectors.
Other multi specialty private hospitals are Alchemist Hospital Sector 21, Alchemist Eye Institute Sector 21, Raffles Hospital Sector 14, Dhawan Hospital Sector 7, Ivy Hospital Sector 5-C MDC, Drishti Eye Hospital Sector 11, Chakravarty Nursing Home Sector 10, Institute Of Reproduction & Child Cares Sector 17, Phoenix Hospital Sector 16 and many more.
For Villages, Select Block :